Public Speaking and Presenting Masterclass with
Shereen Mitwalli
Do you dread public speaking? Are you looking for ways to become a more confident and engaging speaker?
 Look no further than the Ultimate 2-Day Public Speaking Masterclass by Shereen Mitwalli.
Shereen is a leading expert in public speaking and communication, with over a decade of experience as a speaker and presenter. In this comprehensive masterclass, she will teach you everything you need to know to become a powerful and effective public speaker.
You Can Succeed In Anything If You Know How to Effectively Communicate.

-Shereen Mitwalli
In-Person Public Speaking & Presenting Masterclass​
an extraordinary confidence boosting masterclass.
-HIBA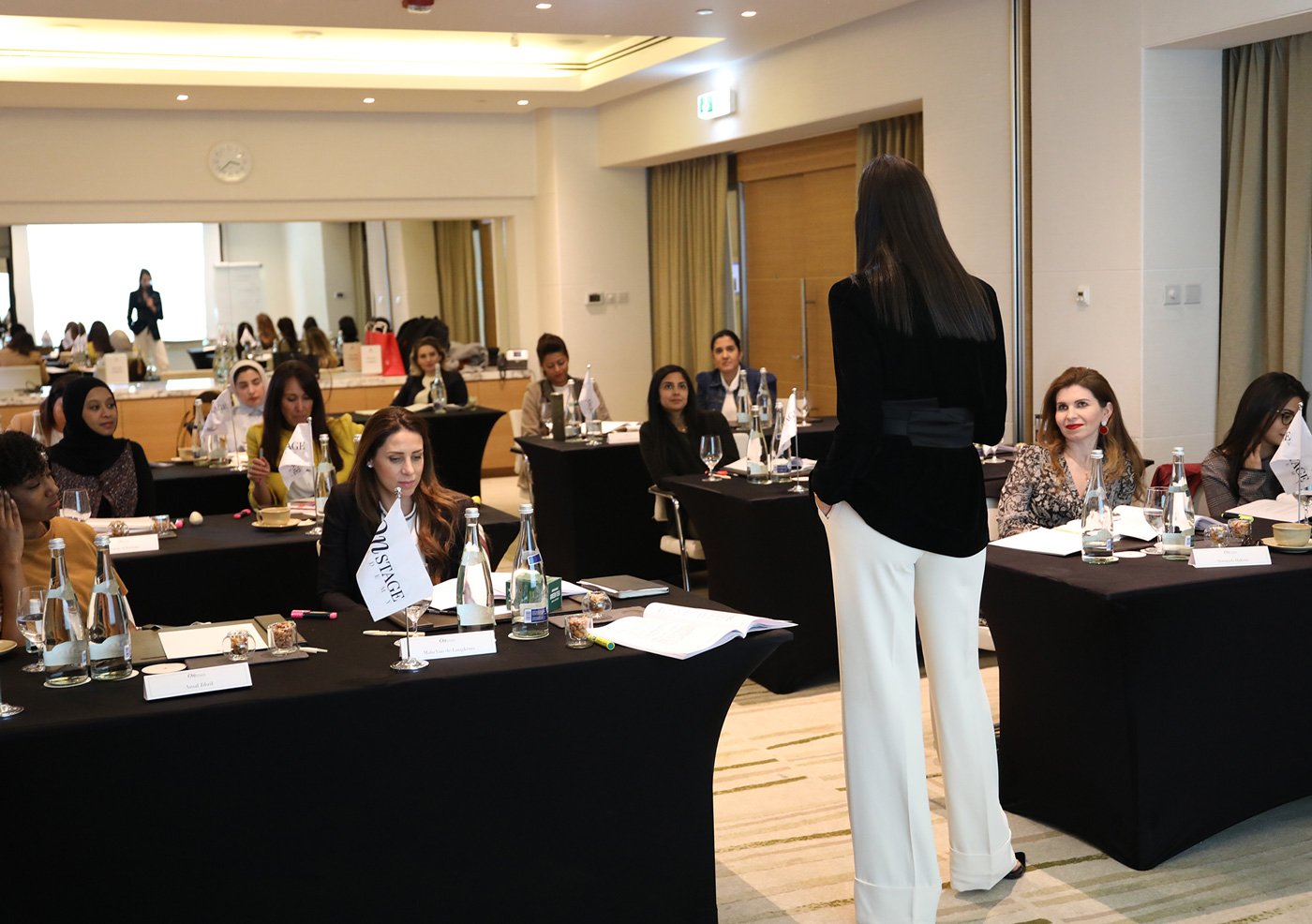 This masterclass is designed for professionals from all industries who want to improve their public speaking skills. Whether you're a business leader, a salesperson, an entrepreneur, a nonprofit executive, or a consultant, this masterclass is for you.
Struggles with nervousness and anxiety when speaking in public
Wants to become a more confident and engaging speaker
Needs to deliver presentations that inform, persuade, and inspire
Wants to learn how to connect with an audience on an emotional level
Anyone who wishes to eliminate stage fright
Wants to build their personal brand and enhance their professional reputation
Aspiring Public Speakers and Presenters
Public speaking is a vital skill to learn have an enormous impact on your career path and your level of success in any industry.
Over the course of two days, Shereen will guide you through a comprehensive curriculum that covers everything you need to know to become a powerful and engaging public speaker.

How to overcome your fear of public speaking and build your confidence

How to craft and deliver compelling messages that engage and inspire your audience

How to use your voice, body language, and stage presence to enhance your message and captivate your audience

How to handle difficult questions and unexpected challenges with ease and grace

How to create an emotional connection with your audience and leave a lasting impression
This Course With Shereen Has Made Me Believe In What I Am Capable Of Doing And Becoming.
-Ghada
This masterclass is more than just a learning opportunity. It's also a chance to connect with like-minded professionals, build your network, and get personalized feedback and coaching from Shereen Mitwalli herself.
Expert guidance from a leading public speaking expert Ms. Shereen Mitwalli.
Comprehensive training that covers everything you need to know to become a powerful and engaging speaker.
Personalized coaching and feedback to help you improve your skills and overcome your challenges.
Networking opportunities with other professionals.
A comprehensive workbook and other resources to help you apply what you've learned.
A life changing masterclass. So honoured to have been part of it. You think you know enough and then something like this comes along and completely changes your view of even the way you speak, stand and confidence.
In-Person Public Speaking & Presenting Masterclass​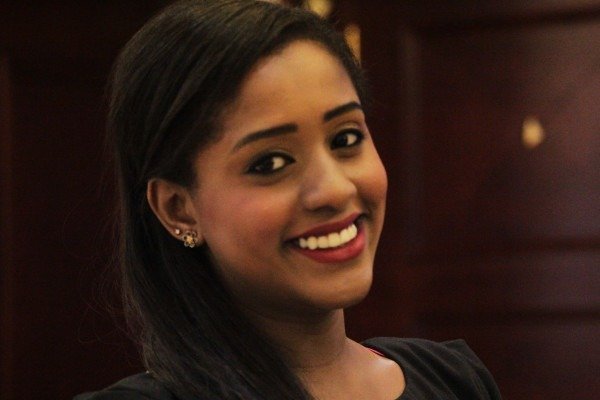 I had severe stage fright and was terrified of delivering presentations. Getting me to do one was as a bad as getting me into an operating theatre. This course with Shereen has made me more confident, changed my mindset and made me believe in what I am capable of doing and becoming. It has been the best investment I have ever made and I would strongly recommend this to anyone! You won't know the power of it unless you do it, so do yourself a favour, take charge of your life, and go for it!
Masterclass Student Flown from Australia to Dubai
to attend Masterclass
A Life changing mastercalss
-LAYLA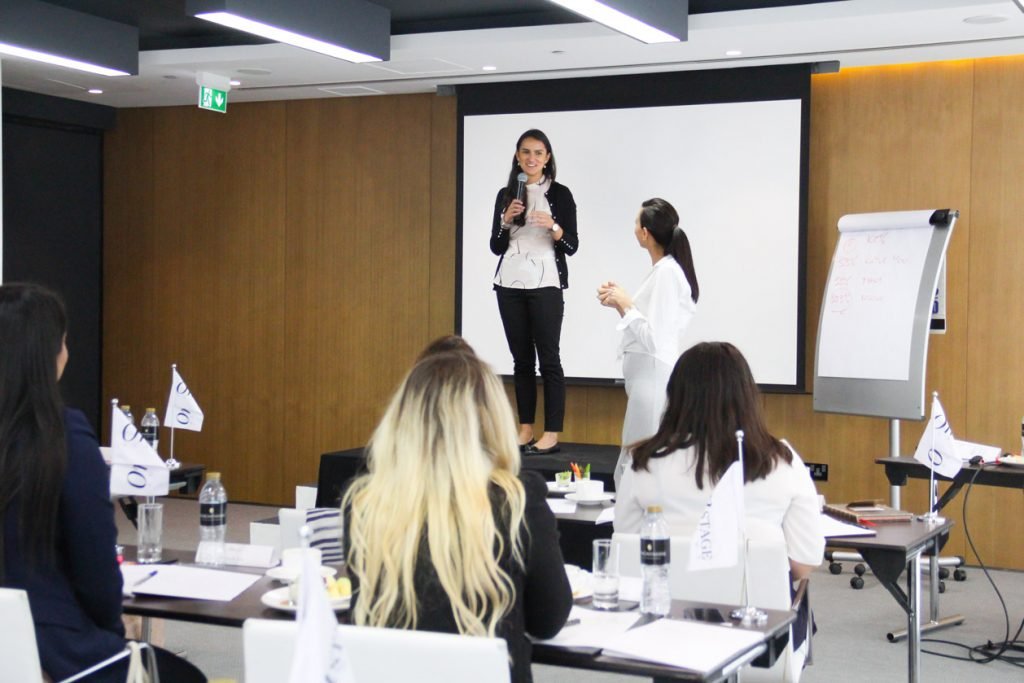 INTERNATIONAL PRESENTER, CERTIFIED LIFE & COMMUNICATION COACH & EDUCATOR
Shereen Mitwalli is an Egyptian – Australian born and raised Presenter and Entrepreneur. Shereen is formally trained in TV & Live Presenting from 'The Sydney Academy Film & Television' in Australia and the prestigious 'New York Film Academy' in Los Angeles.
Shereen's expertise, professionalism, and charismatic personality are only a few of the traits that have made her the No. 1 choice in the UAE & Middle East region. Renowned businesses & brands have loyally made Shereen their preferred choice for various engagements from speaking on stage to brand representation.

I can't express how grateful I am. I woke up with a refreshed mind and a clear vision for the future. This Masterclass was beyond my expectations, it was totally worth it fly in all the way from Amsterdam. The setting of the class was amazing. I love the fact that each of us got the chance to be coached personally by Shereen.
It was an extraordinary confidence boosting masterclass empowering our beliefs beyond public speaking. Shereen is one of your kind and has the most prestigious unstoppable way of communicating all the workshop in a very inspirational setting and taught us what we want learn anywhere on how to #beheard.
Loved it! Packed with more content that I could ask for along with tremendous engagement. The action points are constantly at the back of my mind in everything that I do.
Being a training manager I have had several opportunities to come on stage and speak but the course at Onstage Academy was very detailed and informative. I enjoyed learning the techniques of handling a large audience.
I have learned so much throughout the two days. I enjoyed the NLP module and would love to study it ahead on a more advanced level. However my favourite exercises were the ones that focused on eliminating my limiting beliefs and helped me push my self towards achieving my goals. Nothing seems impossible now!
In-Person Public Speaking & Presenting Masterclass​